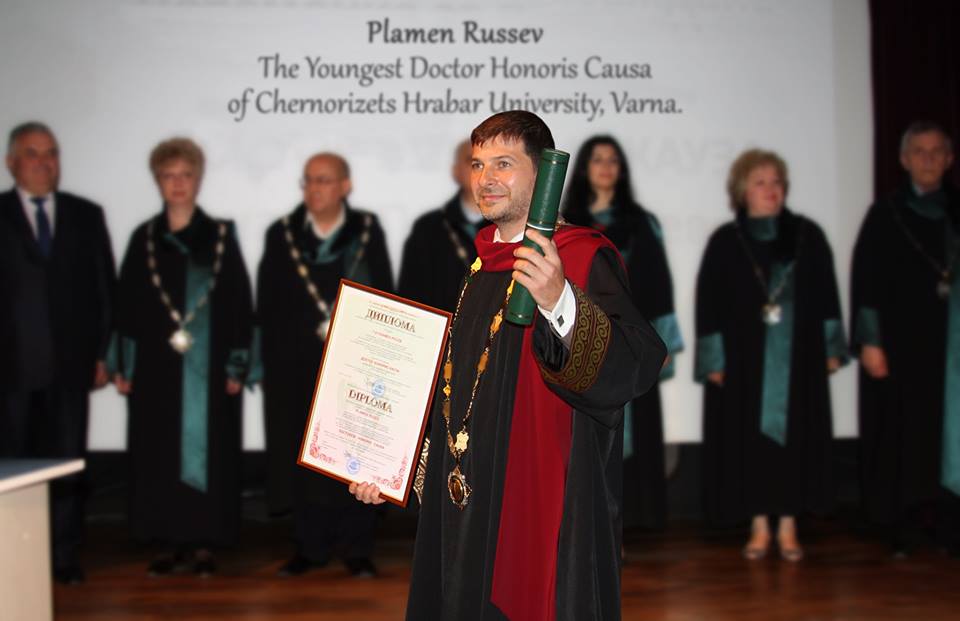 A year ago I have been honoured by Varna Free University "Chernorizets Hrabar" with the title Doctor Honoris Causa for my work on boosting the entrepreneurial ecosystem in Bulgaria and building links between Academia and the Industry!
This was one of the most memorable ceremonies in my life and a wonderful and humbling experience! It gave me a chance to reflect on my work during the years as I keep looking towards the future.
The other reasons this honorary title was given to me is my commitment to support the implementation of new and innovative forms of education, providing huge amount of knowledge for the new economy and the fourth industrial revolution and growing the entrepreneurial ecosystem of Bulgaria as well as for his commitment for establishing  Bulgaria as a Digital and Tech hub for CEE.
Since 2008 Webit Foundation created one of the largest online video content libraries of Digital Skills and knowledge, professional trainings and certificates (under the Ministry of Education). We have established a professional training programme with Certification and Diplomas under the brand Webit eAcademy by the National Agency for Vocational Education and Training (NAVET).
Webit is still committed to creating happiness and empowering the entrepreneurism as a driver to improve the state of the world (please read this article published by World Economic Forum). We believe that happiness is where people are successful while staying together with their family and friends.  
I am confident that the right education is one of the keys to achieving this goal. With such passion and vision for the future the Varna Free University is looking at its next decade of success in building more prepared people for the future!
You can watch my public lecture during the official award ceremony here:
Part I:


Part II: